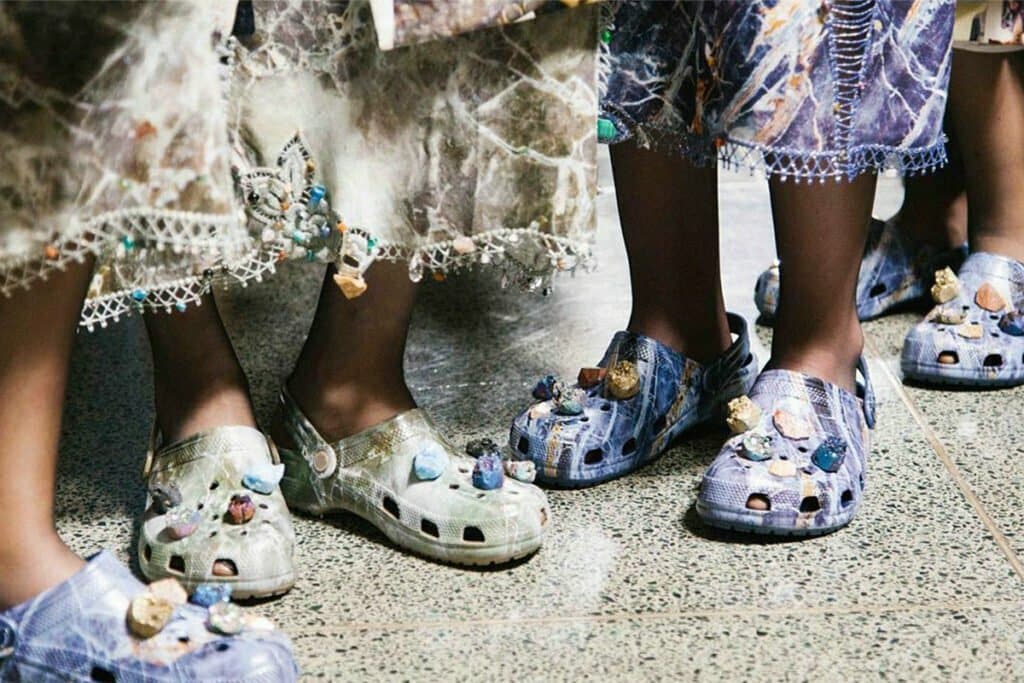 It was June 2016, when Christopher Kane opened the dance during London Fashion Week by having models parade through a dark warehouse flooded with 90s electronic music while wearing marbled, stone-studded Crocs.
A year later, while the fashion system is being fuelled by people-who-have-many-followers, another designer thought of bringing the most talked-about slippers ever back to the catwalk: while the Kane x Crocs collaboration was still offering headlines to the editors of British Vogue, here comes Balenciaga.
By parading Crocs with a 10 cm high wedge during Paris Fashion Week, Demna Gvasalia didn't just take kitsch to astronomical levels: in a historic moment of obsession with virality, Balenciaga stole the show from Christopher Kane by playing his own game.
Immediately the wedged Crocs rode the wave of provocation, making headlines in every official and unofficial media outlet, from the BBC to the Spanish digital culture blogsoutraged at this debasement of Cristobal Balenciaga's memory. As with Kane, few headlines were positive. Unlike Kane, however, this time they were really all over the place.
Such extensive media coverage is extraordinary, but also immensely frustrating. By creating products that are objectively ugly and therefore destined to be ridiculed by internet users, Messrs Kane and Gvasalia have closed a cycle at least 20 years long: in the battle to attract attention and shares on social media, virality - the camp, the ridiculous, the immediate irony - has won out.
Personally, I have to admit that this is starting to bore me. We have had 20 years to provoke with the ugly and experiment with outfits that, in the name of rebellion, were not meant to be at all flattering. It's time to stop pretending that these publicity stunts have any real value.
Of course, I don't blame anyone for betting on this kind of choice: it's just good marketing.
Around the noughties, since anyone with an internet connection could spread his or her opinion on anything, the influence of the press began to dilute. Yes, it is still cool to appear in Vogue, but the attention of those who matter is elsewhere. Or rather, now 'those who count' are between 18 and 34 years old, and according to a Harvard survey of 2015 only 12 per cent of them trust the institutional media.
Achieving the same effect as the pre-digital Vogue, therefore, is the new mission of creatives. Considering that a large chunk of trust is the result of a network of interpersonal relationships, you need people to share and approve what you do through their social channels. This, somewhat annoyingly, incentivises designers to design something that can make noise, even if by noise we mean generating a troll thread on the Twitter home page.
Generally, people share something for one of three reasons: to entertain others, to make money or to give practical information. In a subjective field like fashion, the first two prevail. Therefore, you have the best chance of holding your own if A) you entertain (and generate reactions) and B) by doing so, you offer those who consider themselves to be fashion experts the opportunity to seem even more expert by giving a strong opinion that is more or less well-founded.
Unlike the rebels of the past ? Elsa Schiaparelli, Vivienne Westwood and Alexander McQueen ? the new provocateurs make noise, not clothes (sorry, Demna), and have probably subjugated the role of the product to that of hype.
Their 'Easter egg' does not come from reading, cinema or foreign travel, but rather from a Saturday afternoon in a suburban department store. There are no ideals or feelings they want to communicate, is just something designed to work on social. In two words, strategy and marketing.
Unfortunately, this is what almost all the coolest fashion houses are doing.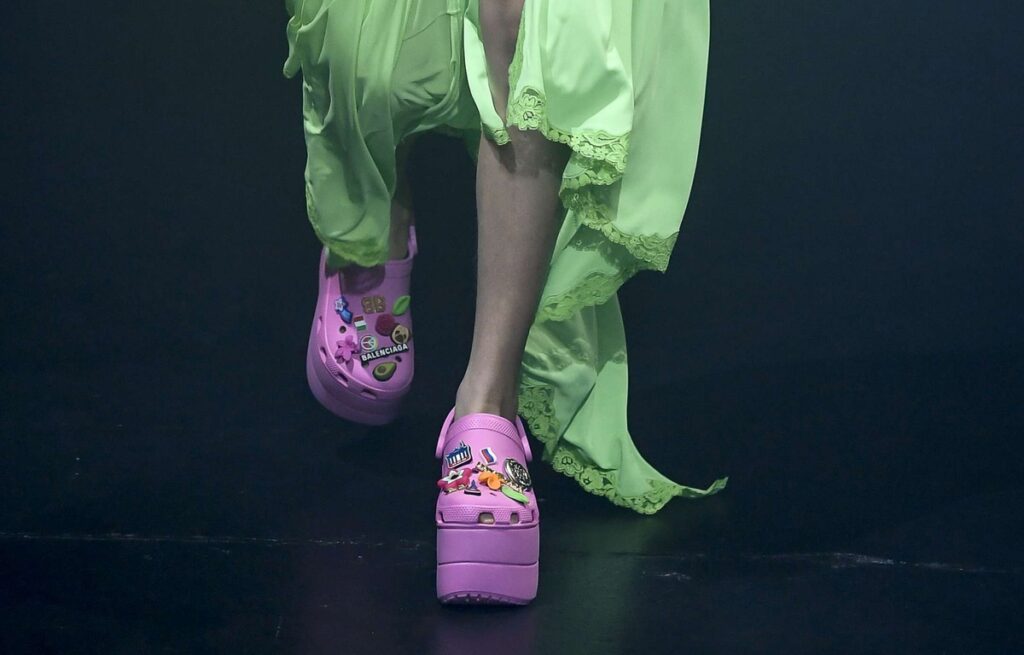 Vetements (another Gvasalia project) combines Margiela's '90s fetishes with questionable collaborations with unfashionable brands, increasing prices exponentially and thus generating reactions such as: "Should I spend my entire salary to buy a sweatshirt?
OFF-WHITE brilliantly recycles workwear by filling it with zips and passing it off as avant-garde consumerism. Even Virgil Abloh revealed to his thousands of fans that 'the point' of the line was 'don't buy it'.
And then there is Anti Social Social Club. Nothing more to add.
With all due respect, Brands' obsession with sharing on social networks has meant that very often the final product is only given physical form after generating hype.
Balenciaga's wedge Crocs were just too much. Leaving aside the aesthetics, what I didn't like was that they were a very recognisable bait, which everyone took anyway. We are talking about what we wanted to talk about.
Designing something to astonish the masses is one thing, designing a product to make a splash for its ugliness is quite different.
Ultimately, the frivolous (and therefore entertaining) nature of fashion stems from the fact that its products live and die by short-term hype. What is nauseating to me is that these lures encourage unwarranted hype.
Why waste time with authenticity, when you can get the numbers your marketing demands with an IKEA meme? Just as it was for the Arab Spring, social networks turn out to be a double-edged sword.
Alexander McQueen certainly did not need overexposed pictures with models eating take-away pizza on the street wearing his clothes, because his product was so strong that it generated astonishment and hype as such.
Now that Ugg's designers are quietly collaborating with Pornhub, I think it's time to calm down.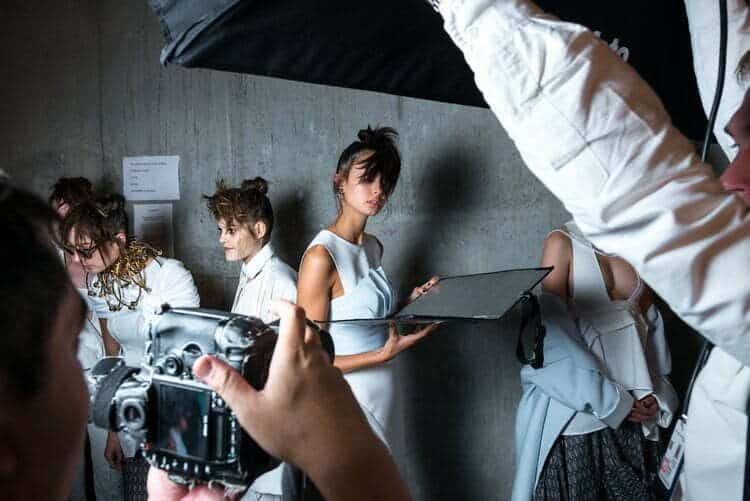 Do you want to create your own brand?
Within the project Be A Designer we can help you build your brand using the Fashion Business Planner