The fashion market 2023: Gen Z and Social
If you want to find out what the fashion trends of 2023 will be, you first need to know how this industry will move. Indeed, the fashion industry has been increasingly influenced in recent years by changes that depend not only on investments, but also on market fluctuations.
Specifically, more attention has been paid to the needs of consumers, who are increasingly younger and younger, and to changes in style and sustainability. Another essential aspect to consider is the use of social media, which have accustomed users to fast consumption and sudden changes in preferences.
This is undoubtedly also reflected in fashion, which necessarily has to keep up with the times, changing quickly and adapting to the times. The big news for the new year is the entry of the very young, so-called Gen Z, into the luxury market.
Through the analysis of this data, it is possible to understand why designers and fashion houses have taken a different approach for 2023, creating real style micro-trends that follow the rapid flow of new trends and fashions that capture buyers.
Opposition to fast fashion, a focus on vintage, second hand and sustainability, in terms of consumption and pollution, are the guidelines that designers have followed in order to meet consumer demands and remain competitive on the market. Thus, the need for fashion houses is no longer only to create attractive collections, but also to use sustainable materials and lines that will last.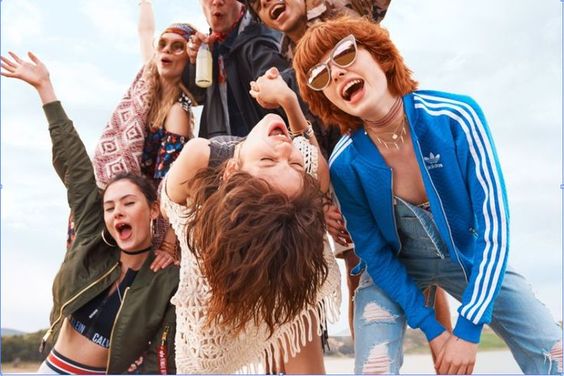 Vintage and sustainability: the keywords of fashion 2023
Another aspect that will characterise the world of fashion and trends 2023 is a focus on sustainability. The prospect of eco-friendly production will be reflected in the choice of materials and production methods that will have to adapt to market demands, in accordance with ESG (Sustainable Development Goals).
The primary target group to refer to when thinking about this important change are young people, who are increasingly choosing vintage garments or creations by small emerging brands that respect the planet, investing in ethics and sustainability in all aspects of the supply chain: from attention to workers, through production, to the sale of the garments.
You may have noticed how widespread is also the promotion that some brands do in the area of fabric recycling, by providing in physical stores, collection baskets of used clothing, useful for reusing yarn.
Similarly, vintage and shopping in second-hand shops is depopulating, also changing fashion trends, which undoubtedly recall the sartorial cut garments typical of years gone by. Thus, to design the new collections, designers have looked to the past, choosing timeless lines and colours, but also higher quality materials.
It can be said that the fashion industry has also become aware of the cultural changes in society and, especially in its new collections, is aiming to meet the needs of consumers by also proposing new values and different points of view in the industry.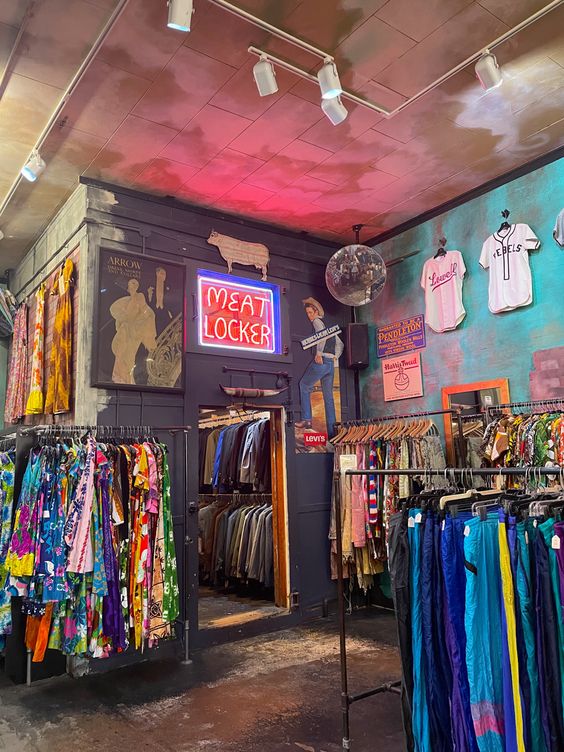 Online shopping & Ecommerce:
To see fashion clothing and accessories in 2023, it is necessary to use an online shop. In fact, this type of sale has important advantages such as a personalised home delivery service, the possibility of choosing from a vast catalogue of products and the convenience of buying from home, using digital payment methods.
Especially in the world of fashion, digital selling has seen a surge in recent years, as it allows all consumers a more satisfying shopping experience. However, in order to tune in to the new demands of consumers who pay more and more attention to sustainability, if you decide to sell your collections online, you can follow a few simple rules. The first, widely used by industry leaders, is the use of recycled packaging.
Choose cardboard and paper, if the product allows it, or recycled plastic. In this way, even the most planet-conscious consumers will enjoy sustainable purchases in terms of packaging.
Also for shipping, prefer services that guarantee an ethical service with regard to workers, an issue very much felt by digital buyers, but also with regard to the means of transport used.
Many, in fact, offer deliveries by electric 100% vans, or less polluting solutions such as shared pick-up points. Finally, if your brand has physical space or a warehouse, you can allow buyers to collect goods directly without requiring home delivery.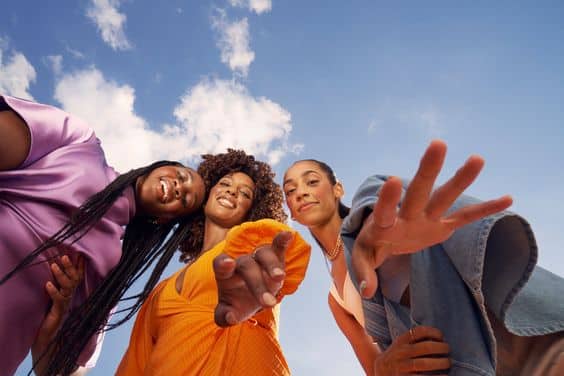 Fashion trend 2023: designers and brands of the year
Like every year, in 2023 new designers but also historical brands will establish themselves in the fashion world, whose iconic garments or accessories will attract the attention of fans and consumers. Chloé and Bottega Venetawith their modern, yet sophisticated designs enter the podium of the brands that will find wide appreciation among young people this year.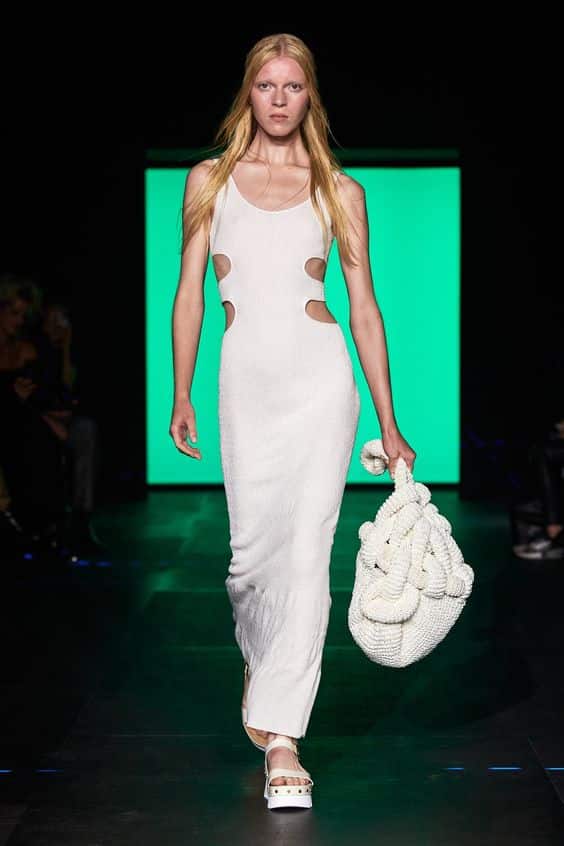 Also Proenza Schoulerwith its glittering proposals, is among the most popular brands for 2023.
Sequined dresses and embellished boots will be the most fashionable combination for the spring-summer season. Lovers of latex and vinyl will not be able to do without the proposals of Sportmax and Blumarine who, on the catwalks, proposed some of the most elegant combinations for evening occasions.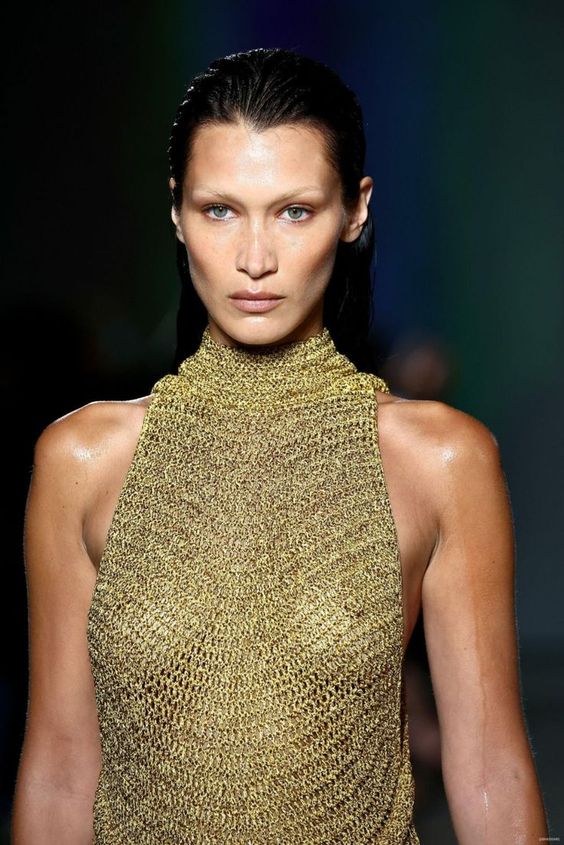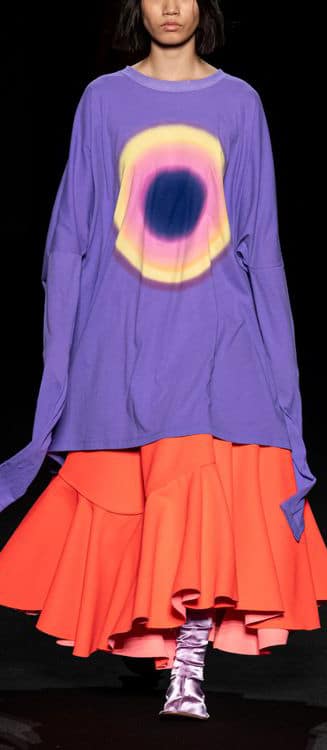 Prada has revisited the skirt in all its forms, offering mini skirts and midi skirts that recall the timeless elegance of designer Miuccia Prada. As far as footwear is concerned, the trends of the moment point to Elie Saab and Valentino, with vertiginous heels, very high platforms and close-fitting, stocking-like boots.
Even in the fabrics, there are great novelties proposed by Miu Miu and Marine Serre. Tartan, Check and Prince of Wales, typical of the kilt, with a return to the Seventies. Max Mara and Valentino dictate the rules of colour, with elegant and cool mono-coloured looks. Finally, Dolce and Gabbana and Act N°1 mark a new trend in lingerie, strictly in view, and worn as a real garment.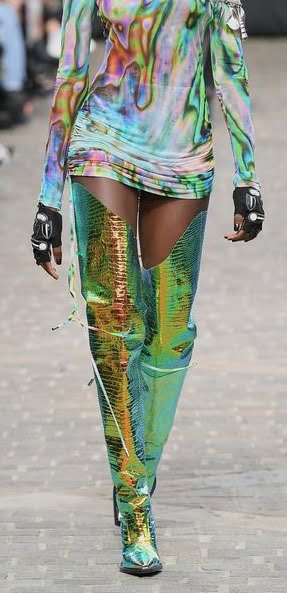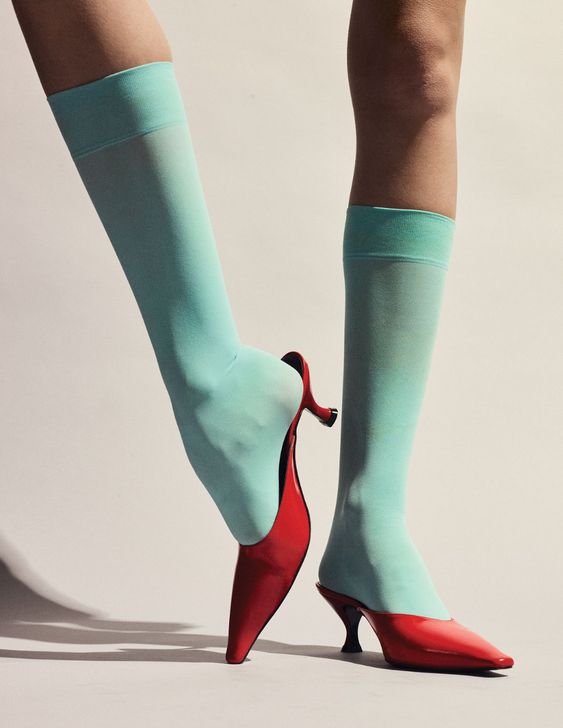 The choice of nuances is an essential starting point if you are imagining your new collection. The year 2023 will see the return of bold and vibrant colours, such as red, a timeless classic of the Valentino maison.
You can decline it in different shades and tones depending on the season, the fabric and the garment you want to make. In fact, this colour can be found in the autumn-winter collections but also in the spring-summer collections, declined in a lively coral shade.
Another trend of the season is definitely the colour lilac, especially for the spring-summer season. Purple with a pastel base also returns to the catwalks as a must for 2023. Green, from its lightest shades to the deepest emerald, is especially popular for trousers and pullover garments.
When it comes to colour combinations, the most popular looks on the catwalks showed how blue and silver, as well as classic black and white, have made a comeback, for elegant and sophisticated outfits, or iconic looks such as those proposed by the Gucci fashion house.
Whatever colour you choose, current trends suggest mono-colour looks, from shoes to accessories.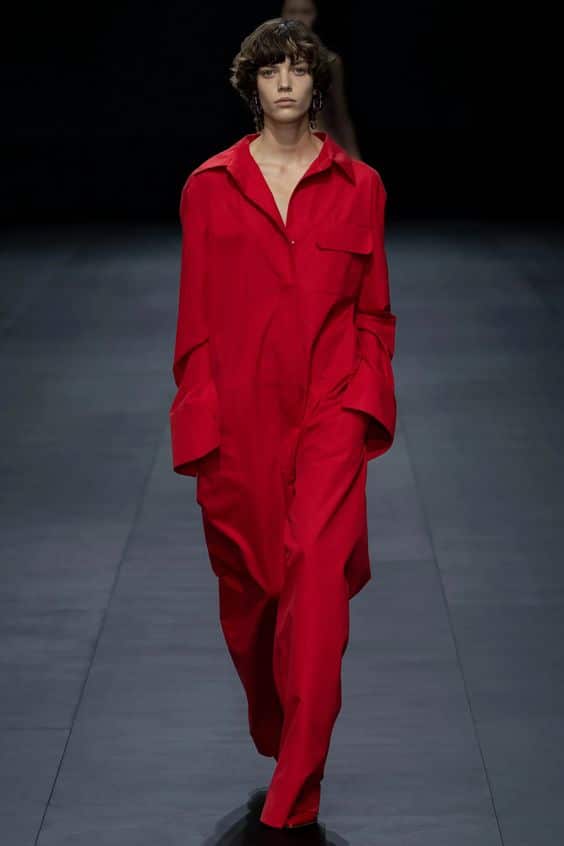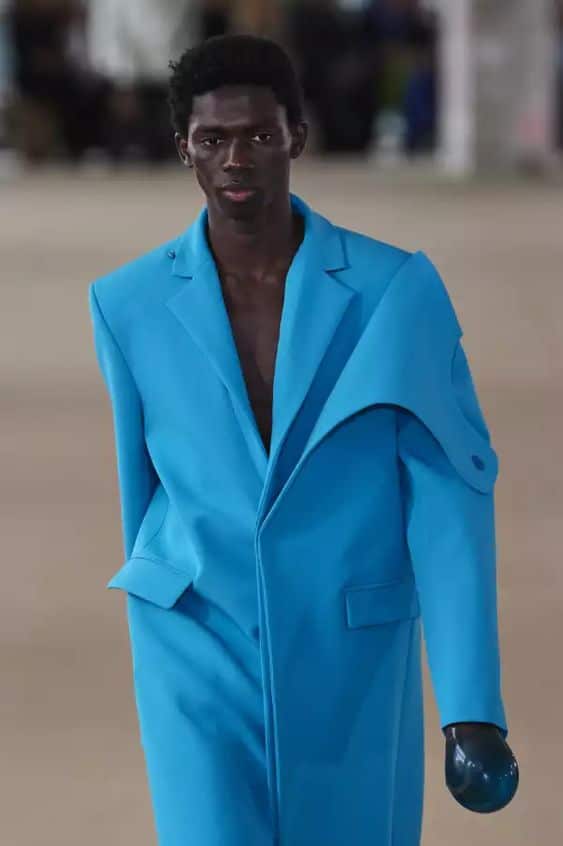 When designing your collection, you should also pay attention to fabrics. Following the needs of the market and consumer preferences, most of the best-known fashion houses, such as Gucci and Stella McCartney, have abandoned fur and leather to use natural or synthetic fabrics that, while guaranteeing the same effect in terms of aesthetics and quality, respect the environment and accord with the new ethics of respect for animals.
For the 2023 season, the one most used and seen on the catwalks is undoubtedly velvet and suede. Used to sew coats, jackets, blazers and trousers, they add a touch of glamour to even the most basic garments.
Thus, even wool, natural and warm, was widely used by designers for the production of coats and jumpers. Another reminder of the past comes from latex and leather-like fabric. Especially in trousers, these materials are combined with cotton basics and leather boots. Faux fur, used for teddy coats and fashionable handbags, is also among the current trends.
For evenings and special occasions, glittering and striking sequins are back in vogue. You can use them to embellish simple dresses or mini-bags.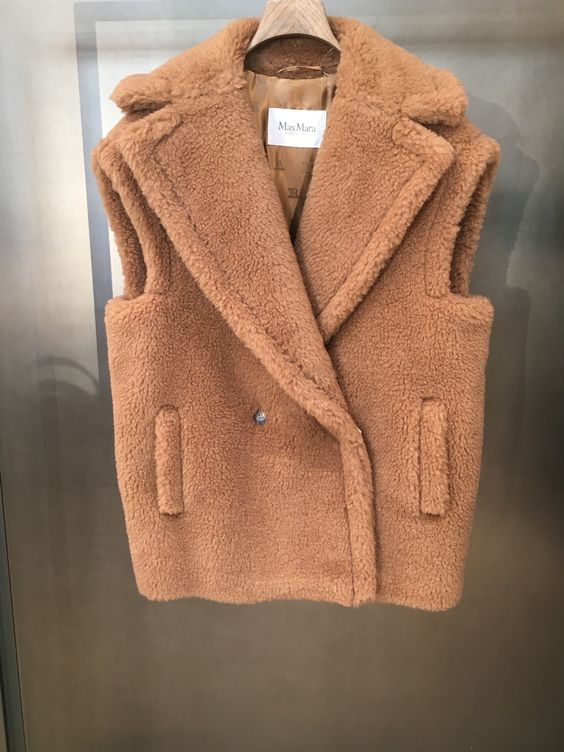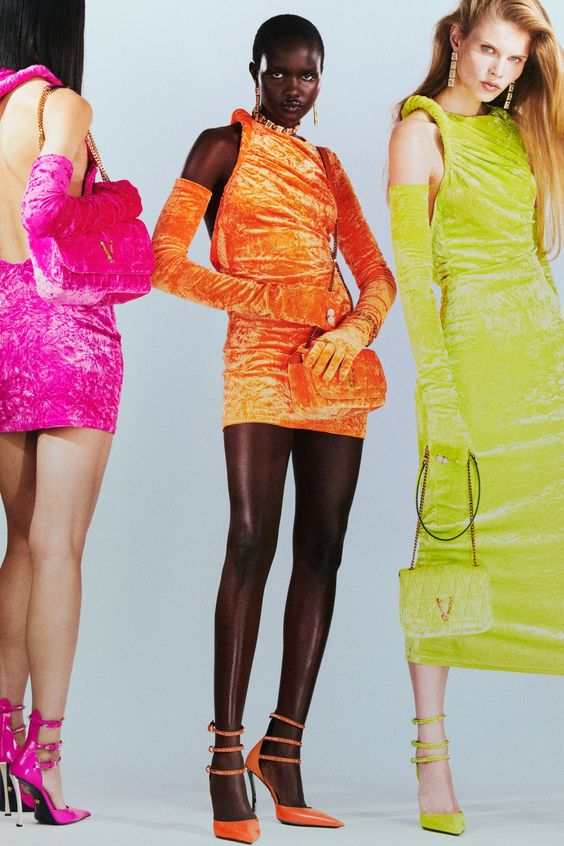 Must-have bags, shoes and accessories
As with the clothing, the accessories for 2023 will also be inspired by the 2000s. As seen on the catwalk, in fact, cult elements from the past will return, renewed in lines and materials.
As far as accessories are concerned, Fendi's iconic Baguette will return in 2023. The bag turned 25 years old and was celebrated with a fashion show event attended by the most important figures in the fashion world.
Not only will 2023 see the return of shoulder bags with buckles and chains, but also bags with original geometries. Luis Vuitton, Valentino and Ferragamo brought minimal bags characterised by geometric shapes such as rhombuses, prisms, and parallelepipeds to the catwalk.
Among the summer trends we will once again see crochet bags. Colourful and minimalist, they can be worn in the city and at the seaside, making every look more elegant. So, in both men's and women's wardrobes there will be no shortage of mini bags, to be worn on the wrist or over the shoulder, the only rule being small size and clean lines.
There will also be important innovations in footwear. Just as seen on the catwalk, the theme will be the classic reinterpreted. For example, sling backs will be revamped with rubber uppers while sabots will be embellished with ruffles.
The 2000s trends include kitten heels, or low heels that will return in 2023 in the form of moccasins, to be worn in spring. Lastly, non-shoes, the return of the iconic Balenciaga sock model, can also be found this year among the proposals of the most famous fashion houses for a minimal chic appeal.
Among the garments you will find most often in the autumn-winter 2023 collections is the coat. However, unlike in past seasons, you will notice a change in materials and colours. The classic camel-coloured wool coat is being replaced by an oversized garment in shades reminiscent of the past such as bottle green and cognac.
Men's jackets also change style, and here too they acquire soft shapes and lose structure, with a clean, minimal style. The skirt, strictly midi, presents new shapes such as the elegant mermaid model proposed on catwalks all over the world.
Exposed lingerie is also among the must-haves of 2023. To create a layering or simply to wear under a maxi blazer, designers have come up with a modern and original way to enhance underwear as well. A strong reminder of the 2000s comes in the form of low-waisted trousers.
Denim is also entering formal and classic wardrobes, breaking the rules to become elegant and sophisticated. Finally, as far as trousers are concerned, in 2023 you will see a return to the classic grey. Overzise and with cargo lines, it can be made of recycled fabrics, satin or tech and enriched with large side pockets.
If you have already noticed a renewed interest in the world of botany in the past years, 2023 will be the year of maximum appreciation. The rediscovered interest in nature is prompting more and more consumers to buy small and large plants to use as real interior design elements.
For this reason, themed vases and prints are also among the trends of the moment. Another big comeback is that of mirrors, large and gaudy, decorated with neon lights or flashy frames.
These can be used to illuminate and add depth to the room.
Finally, to recall the soft and sinuous shapes seen on the catwalk, the designers of household objects have also come up with rounded and capacious maxi mugs, as well as trays with scalloped edges and glasses. Thus, objects should have soft, rounded shapes, leaving square and rigid designs in the past.
And with that, we have come to the end of our journey of discovery of fashion in 2023.
Are you ready to dress the trend and find out what next year's must-haves will be?
One thing is certain: the future of fashion belongs to Generation Z and their great influence on social media. Sustainability and vintage fashion are becoming increasingly important, and the fashion industry is finally taking concrete steps towards an eco-friendly production process.
And let's not forget e-commerce, which now dominates unchallenged, with consumers increasingly focused on choosing eco-friendly shipping options and packaging.
But what will be the trends to follow? Bright colours and bold fabrics such as velvet and suede will be the stars, while accessories will be inspired by the 2000s, with Fendi's iconic Baguette making a triumphant return.
But beware, never be trivialIt is important to dare, to create a unique look that represents you at your best.
And if you don't know where to start, don't worry: I am here for you.
WARNING!
If you have read this article, it is because you are definitely a fashion enthusiast,
but the real reason why you read these topics on my site and not in a fashion magazine
is because you have most likely had in your drawer for some time
the idea of creating your own fashion brand.
I am Corrado Manenti and now for more than 10 years I founded the first independent style office specialising in supporting emerging designers in the development of their collections and their path to self-entrepreneurship.
If you are a designer or simply a creative person and have always dreamed of building your own fashion collection and selling it, you are in the right place!
Will 2023 be the right year to bring your project to life?
Schedule a free consultation with me and let's evaluate the future of your project together.