An increasingly popular phenomenon is the Private Label phenomenon. Thanks to specialised garment makers, it is possible to take ready-made garments and personalise them with your own label! In this article we will look at the pros and cons of this type of production.
To orient ourselves by looking at our Fashion Business Canvas we are in the second quadrant dedicated to the creation of our collection. The private label is placed in chronological order after our Pyramid collection and occupies the quadrants:
Item Draft: Drafts of what the final garments will look like

Materials: The choice of materials

Application: The applications or customisation of our garments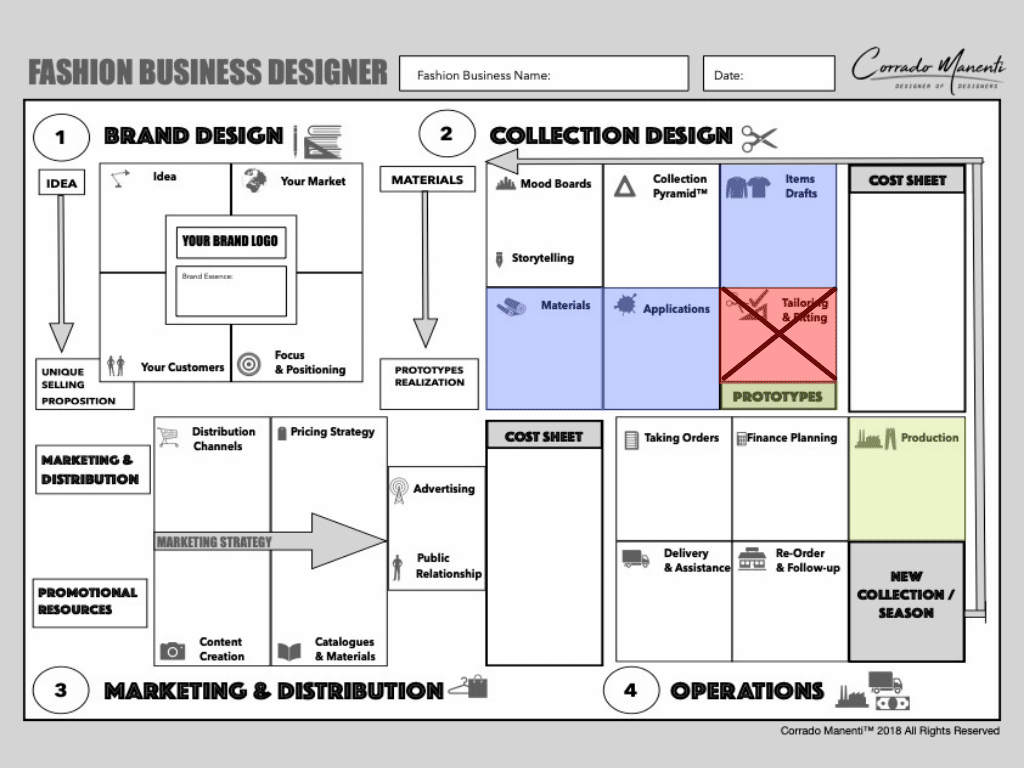 As you can see from the canvas we will not need to fit and unfit the garments will have already been perfected by the manufacturer, and we won't even have actual 'prototypes' as they will be exactly the same as the ones we will then order in the final production phase.
Up to this point it all seems very advantageous, in essence we can choose pre-packaged garments, customise them and sell them under our own brand name, taking away the big problem (and cost) of prototyping the unpacking!
But as always there are always pros and cons. Let's delve into this together!
If we wanted to give a rough definition of what it means in the fashion industry private label? suffice to say:
put your own label to an undifferentiated head.
After we have worked on refining our idea and shaping it to our target audience in relation to a specific market positioning. After choosing our naming and brand elements, we can finally look at the products. To the part that on our canvas is dedicated precisely to: Collection Design
After working on the creating a moodboard and laying the foundations for our storytelling or created narrative bases for our objects (let us always remember that anything we plan to make will have its own story and identity) we will be at a crossroads.
We will have to choose whether:
Developing a new product (i.e. starting from your idea we are going to construct the garment, handbags, shoes or accessories, like this? creating something that does not exist)

Or choose the customisation of ready-made garments.
Private Label VS customisation
When let's talk about Private Label we find ourselves in the second scenario, where we decide to opt for neutral or existing garments and customise them. There are various levels of customisation:
If we take neutral t-shirts and go and print them with our own designs (simply because our focus is on the print and not on the t-shirt itself) this is in all respects a customisation and is part of the creation.

If, on the other hand, we choose a ready-made garment and only change the label to our own then we are talking about Private Label in the purest sense.
In this second scenario more extreme? we are buying a ?product without marketing"I buy an existing neutral product and try to make it unique with my communication, my marketing and above all my brand. This may seem almost 'dishonest' if we think that fashion should be a business based on creativity and always proposing something original.
But equally, it is an established strategy that works well when our brand is strong and has its own recognisability. Always remember that when a brand is strong it can position any undifferentiated product at the level of its other products including aspirational ones.
Often many brands famous purchase garments from other brands at the same level, and the value in itself is not so much the product how much by marketing and how much they are influential and important their stories and valuesdepending on the unique way in which our brand manages to giving value through our business system.
The business system strongly depends on the unique way in which our brand expresses its value.
Do we have a way to bring the product to market in a convincing manner?

Do we know the tools and effective methods to distribute it?
Our brand and our context give value even to undifferentiated garments
If our Brand succeeds in conveying the right value to its target audience through a community of enthusiasts will be irrelevant if the garment is not designed and built from scratch, because customisations will be the value to the design product and make people talk about us.
PRIVATE LABEL: THE PROS
Having some or all of the garments customised allows us to choose from something that already exists and is in some way already on the market, we can hardly go wrong and choose 'out-of-season' garments because the manufacturer is much more attentive to macro market trends and what is or is not in season.

We can customise garments of good quality and sometimes made in Italy

We can include garments in the collection (such as outerwear) that might be too expensive to design from scratch and produce in small quantities

Not every garment in a collection has a real added value in being made from scratch

You can test different types of garments and see if they fit (without making stock)

You don't have to have stock in some cases you can even drop ship

All famous brands do it, it won't be a problem if you do it too right?
PRIVATE LABEL: THE CONS
Your competitors and hundreds of other brands (without exaggeration) also source from the same suppliers, so there is always the risk of being unoriginal.

If your marketing sucks and doesn't have emotional overtones or a context like a shop where you can create a buying experience, it is difficult to sell undifferentiated products.

You cannot always change all the labels so you risk the end customer finding out that it is not really a product made by you and may perceive it as being of lower quality

The marketing remains all up to you, as does the brand idea, which must be even more coherent

Although some manufacturers also give you product photos already made, you cannot really use them if only because Google's algorithm recognises identical images and penalises them.

You are bound to the proposals, seasonality and stock of the manufacturer and have to adapt to its corporate policies.

All famous brands do this, maybe if you want to differentiate yourself it is better to focus on creating something relevant!
If you liked this article leave a comment, it will be a pleasure to reply!