HOW DOES THE CANVAS WORK TO CREATE YOUR BRAND? IN THIS ARTICLE I INTRODUCE THE FASHION BUSINESS DESIGNER THE TOOL I HAVE DESIGNED TO HELP YOU CREATE YOUR FASHION BRAND
Hello and welcome to this section of the Fashion Business Academy where I explain how Canvas works and, above all, show you what it is and how it can help you in building your brand and product line in fashion or similar fields.
Let's start with an overview of our canvas!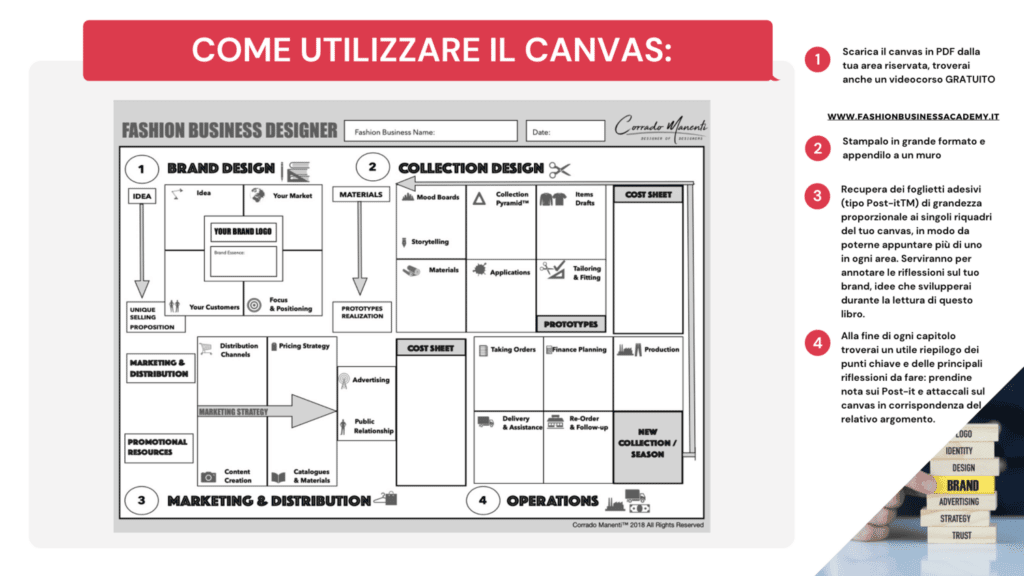 The first tip I can give you in this lesson is to download the resources, you can go to the download canvas section and click you will download this canvas in PDF ready to print.
For this explanation I will show it to you digitally, but it is much more practical for you to have it on physical paper and put it up somewhere precisely because it is a visual tool and like all visual tools you have to see how it is created and how it evolves over time.
The canvas comes from the world of business organisation.
Canvas translates precisely as 'canvas' and like all canvases you have to go and write something on it and 'paint' concepts on it, so it serves a bit like a treasure map showing us the path we have to take from the beginning until when our products are ready and then when our business model works.
So the first thing you have to do is just print it out find all resources in your reserved area in the Fashion Business Academy at your private area and access the free video course where you will also find all the downloadable materials]
Here at the top you will find the name of the tool which is the fashion designer if you search the Internet there are many other Canvas The most famous is the one by Strategyzer which talks about the business model canvas. This one is dedicated to fashion, which is why you will find it particularly interesting.
At the top you must write what you intend to call your project, which does not necessarily have to coincide with your brand name.
Probably at this stage you do not yet know what your brand will be called. However, it is interesting if you have more plans plus ideas that you write down the name and the date when you start filling it in.
This may seem like a triviality but it will be very useful for you to see later on when you go back over the whole path so far to see when you started that it will give you a minimum of historicity and make you realise that this map you have to follow is a path you take over time.
The canvas itself is divided into four sections and each section covers specific topics
If you have my book in your hands you can see how at the end of each chapter the topics go hand in hand with the canvas precisely because the approach you take is a sequential one.
IF YOU DON'T HAVE THE MANUAL YET AND ARE INTERESTED IN BUYING IT, YOU CAN FIND IT HERE
What it means sequential approach? It means that it makes little sense if you jump from one part of the canvas to another without first following the entire process linearly.
This is mainly meant to help you! In some cases you may already have some ideas or filled in pieces because you may not always start with a new activity.
The canvas also works well if, for example, you already have a brand to make another line, so you might already have blocks filling up.
My advice, however, is to start at least the first time from the beginning and then only go on to modify things that will then take a different shape as you do them. As I told you there are four main sections.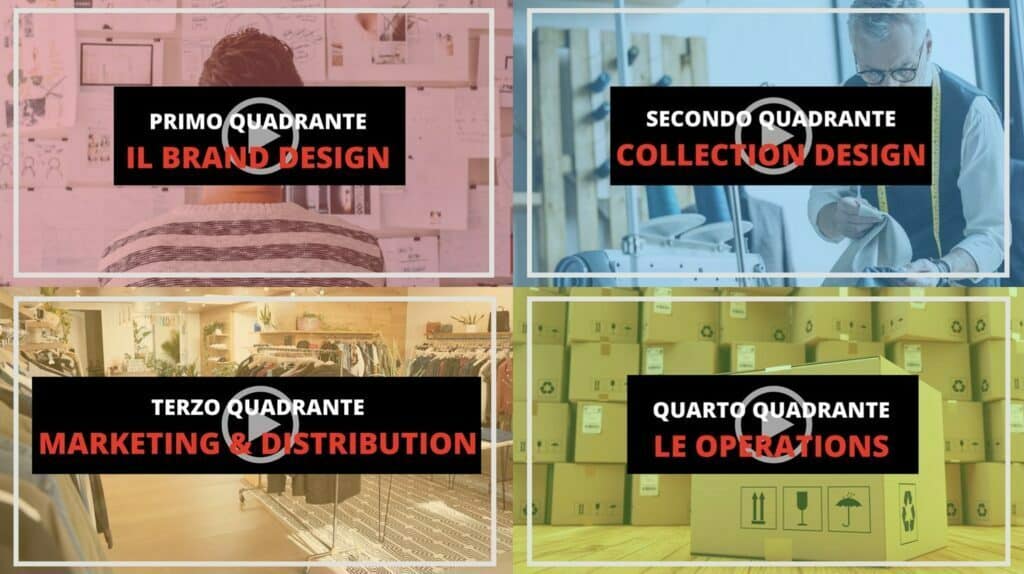 INTRODUCTION TO THE WORLD OF CANVAS
The Fashion Business Designer is primarily designed for the creation of series products so it fits well in business types where we talk not so much about individual products but about collections.
It was designed specifically for fashion but is also good for design and for all mass creation of objects and accessories and so on.
Let's start a bit with the structure of the canvas, similar to the moodboard it is a visual tool and above all something you have to print very big!
You can well see when I use it in my videos on my digital board it is even huge!
THE FOUR AREAS OF THE CANVAS:
DESIGN AND CREATION OF YOUR BRAND ARCHITECTURE AND VALUE SYSTEM:
The first is characterised by the colour red. Brand design is precisely everything that lies behind the structure of our brand architecture Brand is not understood so much as a brand logo but as a conceptual container within which we create values that we will then put on products.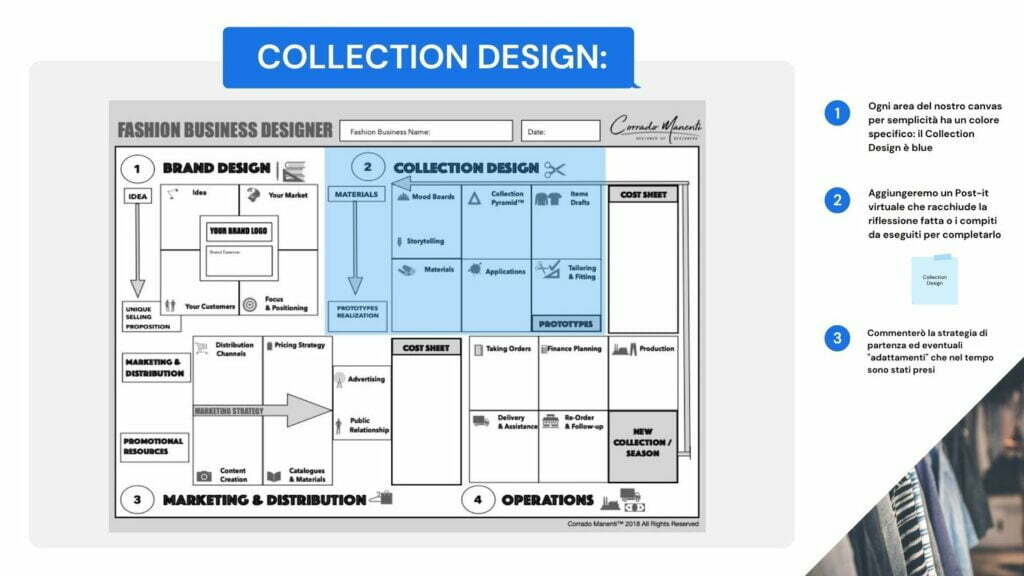 DESIGN AND REALISATION OF PROTOTYPES AND THE COLLECTION:
The products can be found in the classic part of the collection development, which is normally in blue.
This is the same approach that I presented as my project in my thesis in textile engineering when I studied this approach as a thesis project and indeed since 2018.
Since then I have gone on and developed it further this is the let's say 'classic' edition and the reference colours of the various sections have remained the original ones from the presentation.
In the second section there is collection design, i.e. the classic and canonical part of the product realisation of a collection.
STRATEGIES TO REACH THE MARKET:
The third part with the colour yellow encompasses two equally important things marketing and distribution. Both these aspects of fashion run somewhat in tandem.
So it is the part that tells us precisely how to structure the distribution the pricing strategy and the marketing how then to bring what you have designed in Collection Design to the market.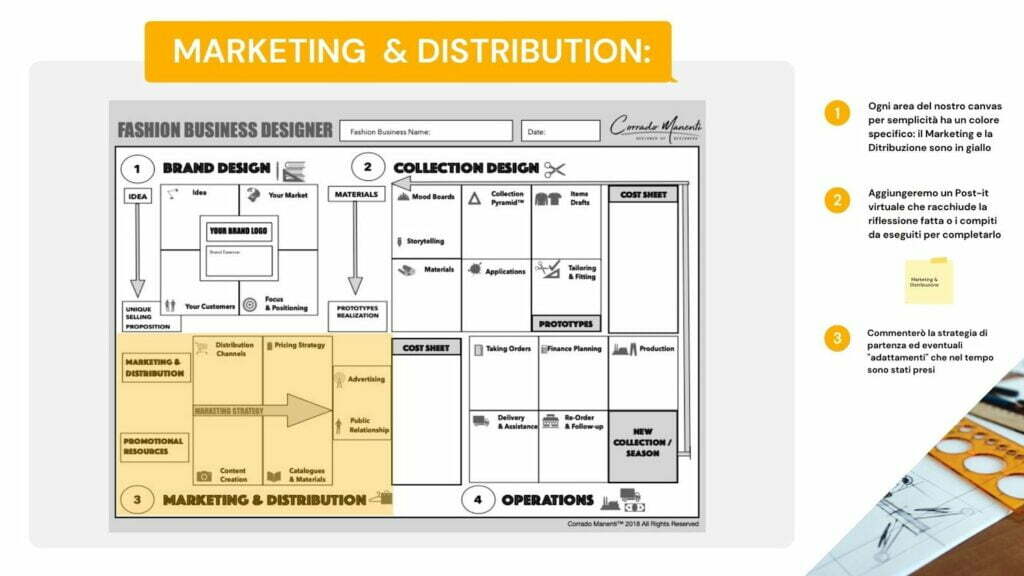 ENTREPRENEURIAL MANAGEMENT AND BUSINESS ORGANISATION:
The last but not least section is the operations section, normally coloured green works are all those activities that lead you to be an entrepreneur obviously it would make no sense to create products if you do not have an automated method and a company behind you to sell them. So the important part of taking orders is stocking inventory and delivery, i.e. taking them to customers.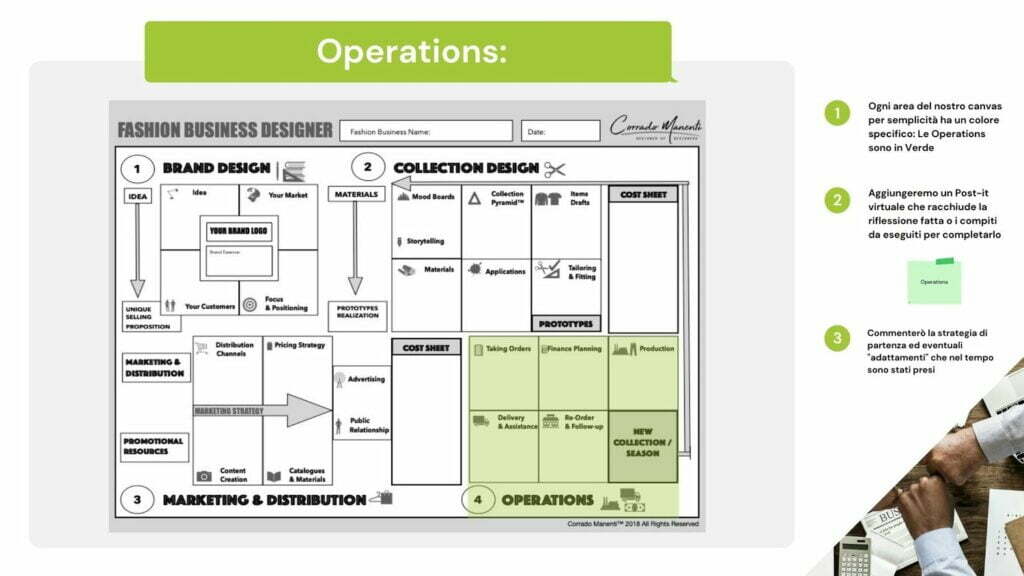 As you can see in various parts of Canvas there is a section on costs. We can find it here, for example, where at the end of the development of the collection we will find out how many euros we spent to get from our idea to the prototypes.
And even here especially when we then have to add the costs to bring our product to market.
WHAT HAPPENS ONCE YOU HAVE COMPLETED YOUR CANVAS?
once you reach the end of the canvas you will be able to start again with a new collection and therefore you will not need to go over Brand design concepts because precisely a brand is built with consistency but you can follow the arrow and start again with a new collection and then with moodboard and storytelling.
This is the structure of the canvas and will accompany you through the chapters of the book and on your journey with us at Be A Designer.
[ if you follow the book and do the exercises answering the questions and at the end of each chapter you will see that your Canvas will automatically fill up].
How do we fill in the boxes in our canvas? Obviously I don't advise you to write as I did in this messy way (if you have seen the video) with colours.
The classic Canvas approach is to use post-it notes? so every space every 'square' you will put a post-it note where you can write down your thoughts and at the end you will have a map to guide you in developing your brand.
CONCLUSION:
For this article it is all in the NEXT ARTICLES I will go into a little more detail and show you all four sections and what the various spaces and tasks are, and then we will go on to see together how you can make the best use of this very powerful tool.
Did you like this article? Leave me a comment below and share it on your social networks with everyone who might like it!
That's all from Corrado! Until the next article!