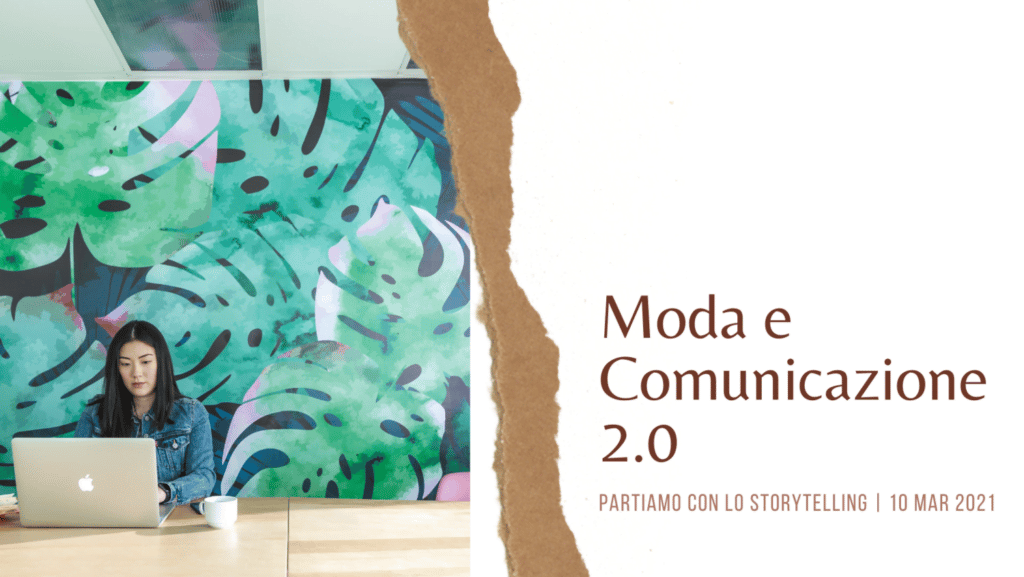 This article is brought to you by Be A Designer, the fashion office that makes your brand come true.
The accelerating dynamics triggered by the blockade of the textile industry -one of the most dynamic sectors of society- causes COVID-19are reflected in the present day and travel in parallel with the entry of the digital age.
The marketing mix emerging in 2021 between instruments offline and online -one year after the start of the global pandemic- in the Fashion Industry, is valorised communication 2.0, so as to avoid being excluded from Digital Transformation.
For a company, having an online presence becomes a real competitive advantageas it generates new opportunities in terms of communication and promotion. The game consists ofimpact on corporate culture and technologyin order to offer a Customer Experience customised and truly effective.
The tools for the Web Marketing have radically changed the way products are understood and used by the customer. The process was already in place but COVID accelerated the process dramatically.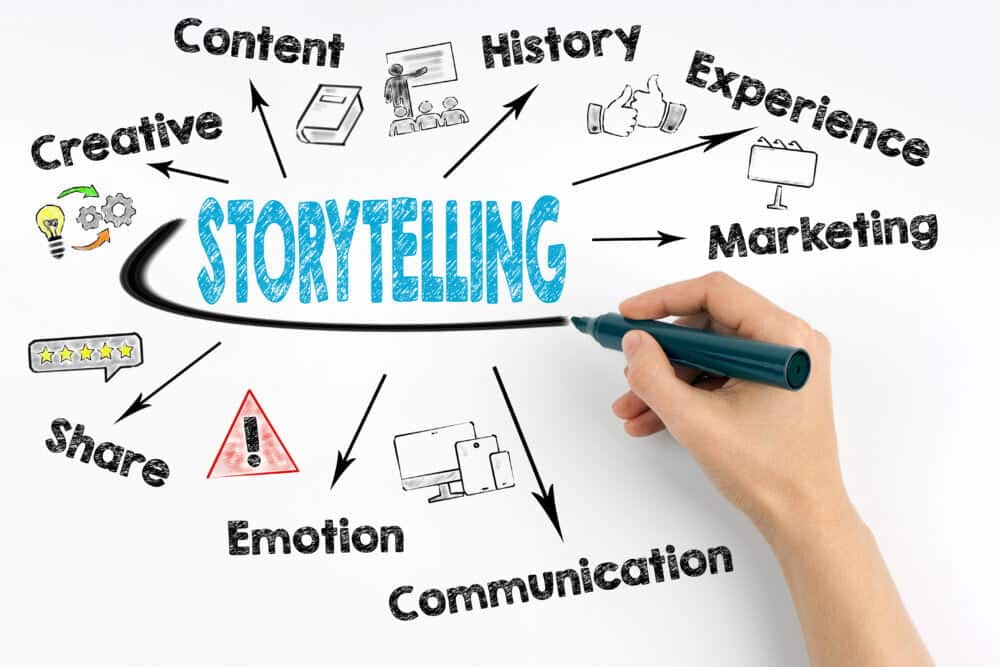 They are communication tools that, these days, it is mandatory to carry to find the various opportunities in the fashion industry. A coherent fashion social media marketing strategy can prove to be the winning weapon in the increasingly competitive fashion market.
So where to start in order to structure a good social media marketing plan in the fashion design and production industry?
Before listing and explaining all the available tools and platforms - Pinterest, Facebook, Ads, Google, Tick Tock, Instagram, LinkedIn, etc. etc. - it is obligatory to list and explain all the tools. - it is obligatory to clarify what your Brand Vision isso you can create a storytellingnecessary for the design of a Winning content marketingthat attracts users' attention to your fashion brand. The results include information that you will be able to decode to better understand the behaviour of your Target.
Lo storytelling is the sum of the qualities of your product, mixed with the common values between your brand and the customer, focused on emotional connections.
Questions such as:
Which target group buys my type of product?

What are the aspects that characterise my Brand?

What do I offer more than the competition?

What is the character I want to attribute to my Brand?
They will help you focus what users lack in a certain geographical areaso as to understand how to structure a suitable storytelling to your interests and to them.
Let's see how to structure effective storytelling: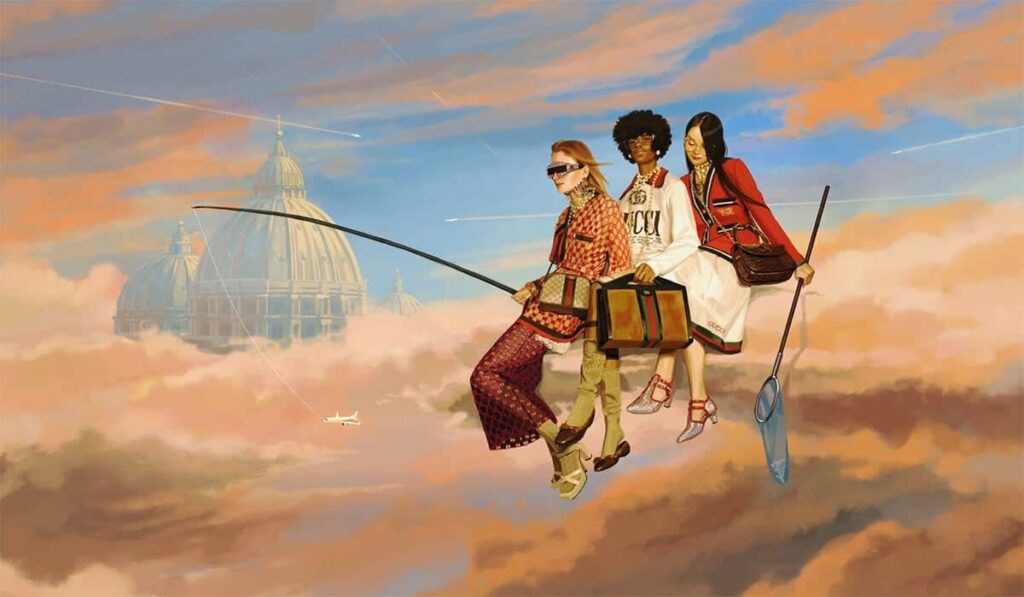 Moodboard encapsulating Gucci's storytelling.
5 W RULE
WHAT, WHO, WHERE, WHEN, WHY.
Did you know that every audience needs a precise style of communication? That is why it is essential know their target audience in depthin order to create effective storytelling.
WHO : Who is the protagonist of the story? Whether the subject is the product or you want to attribute it to a character, you have to give a character that reflects the user's moods in order to involve him. Cheerful? Colourful? Angry? Gritty? Rockin'? Find out which ones are the moods that overpower your customersso that they can create a protagonist that is mirrored in them.
WHAT: clarify what your fashion line represents, what the genre is and who it is designed for.
Being clear about the product means giving context and it, immediately highlighting the nuances that characterise your fashion brand.
This also helps analyses to recognise who is really interested to your line and draw up more and more detailed data and behaviour.
WHEN: When can my boss be used? Giving a temporal connotation to history helps give context to our fashion collection.
WHERE: Where is my Fashion Design aimed at? Communicating to those who read or see your content image\video what is the atmosphere surrounding your fantasy for them. Associating the places from which the product is inspired is a good strategy to increase emotional involvement.
This also serves to understand where to push our marketing and focus on competitors.
WHY: Why have we reached this point today? Why are we now presenting ourselves to our target audience? Why do people buy our Fashion Brand? Nothing happens by chance, especially in storytelling. Always give meaning to your actions.
Every audience needs a tone of voice (corporate tone of voice) able to involve and give deep emotions in complete harmony with the Brand.
How can this be achieved?
Identify keywords: the unique phrases and words that connect your garments to the world, encapsulated in concepts that represent them in society.
The keywords are consistency, credibility, effectiveness: get to know your customers and listen to them. Identify their values and distinctive traits, associates to their needs. Only in this way can you create a successful storytelling capable of ?hitting them in the heart?.
As mentioned, the key words are consistency, and what you are going to structure in storytelling will be the basis of the topics covered in your future fantasies.
Your content will be structured to tie in with the topics covered in the storytelling.
The Evolution of Digital Marketing and Socialing is based first and foremost on the centrality of content.
The content marketing is a practice that follows the line of Sotrytelling. Let us say that gives meaning and colour to your world on the user side, and it is one powerful tool for engaging and tracking an interested audience to your fashion and accessories line.
In the following articles, we will take a closer look at how to structure a content marketing strategy so as to be able to use social tools and platforms such as pinterest, facebook, ads, google, ticktock, instagram, linkedin, etc. according to a certain criterion.
Subscribe to our newsletter to receive the next preview article: