Who said that fashion is a 'child's play'?
Who said you have to be young to realise your dreams?
Fashion, like art, knows no age limits. Your passion for beauty and style can explode at any time in life, and becoming a stylist after the age of 40 can be the perfect opportunity to express yourself and contribute to the fashion world in a unique way.
In the course of this articlewe will dispel some common myths related to age and careerexploring the path you can follow to become a designer, regardless of whether you have just passed the fateful milestone of 40 (or even 50) or if you simply feel it is time to start! Pursue your passion for fashion and beautiful things that have always been part of your way of being, your style and your worldview.
At 40, you bring with you a rich and varied life experience, which can give you a unique perspective on the world of fashion. From Coco Chanel a Vera Wangnumerous successful designers started their careers much later in lifeand yet they have become immortal, globally recognised and celebrated style icons.
Are you ready to embark on this exciting journey into the world of fashion? Then read on, because your dream of becoming a fashion designer may be much closer to reality than you think.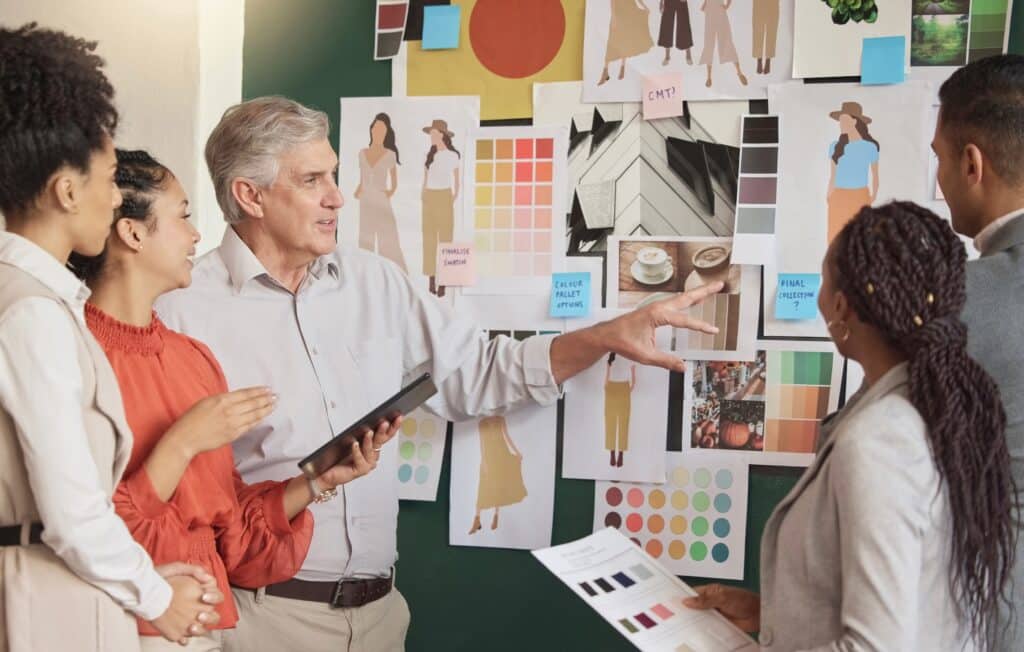 Answering the 'call' of one's inner voice:
If you are reading these lines, it is very likely that you feel a real 'vocation' asking to be expressed, a burning desire to create, to shape the fabric and your artistic vision. Characters like Gianluca Vacchi Whether we like it or not) have accustomed us to the idea that life is a constant re-invention, mastering new languages and growing old in a 'cool' way is not only the prerogative of actors and showbiz people but also of 'normal' people like us.
It does not matter at what point in life you have arrived, and how many milestones in relationships, in work you have already crossed, after a while we all need new stimuli!
And why not try fashion? at 40, 50 or beyond, starting a fashion business can not only offer you a rewarding creative outlet, but can represent a new and exciting source of income.
Age can bring with it a renewed sense of security and stability, both emotionally and financially. After navigating through different stages of life, you may find yourself in a position where you are free to follow your passion with a clear, focused mind and free from many of the pressures that accompany youth.
Starting a career as a designer after the age of 40 or more can be a bold expression of your authentic self.
It can allow you to live the dream of seeing your creations brought to life, worn and admired. It can bring a renewed sense of discovery and purpose to your life, challenging conventional notions of age and career.
If we then add that, at this stage of life, you have gathered a wealth of experiences and a deeper understanding of life and its nuances, it is clear that these can be reflected in your work, making it deeper, more authentic and therefore more appealing.
Of course, change brings challenges. You will have to ilearn new skills, keep up with trends, and build your network in the industry. But with your maturity and determination, these challenges can be faced and overcome.
In conclusion, age is not an obstacle, but rather a springboard for your success as a designer. If fashion is your passion and creativity your language, then it is time to listen to that inner voice that drives you to create, to design, to dream.
After all, the art of fashion is eternal and knows no age.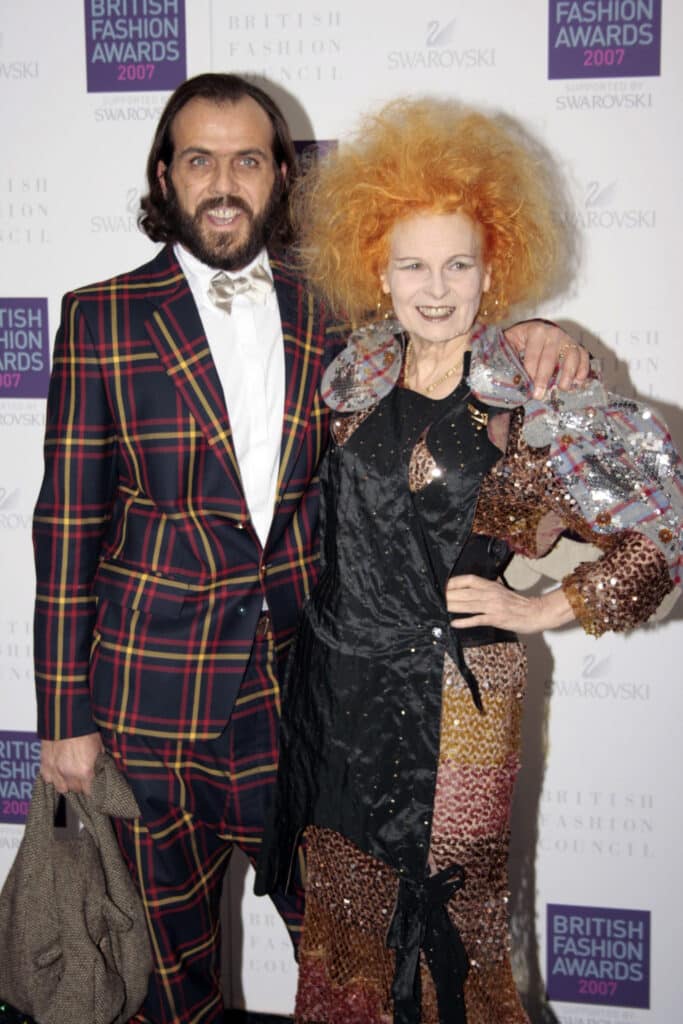 Addressing common career and age prejudices
In our society, there are still many prejudices regarding age and careers. For example, there is a widespread idea that certain professions, such as that of a fashion designer, are reserved for young people.
This prejudice is fuelled by stereotypes according to which creativity and innovation belong exclusively to the young, while older people would find it difficult to adapt to new trends and technologies.
You know when your children or grandchildren say that if: 'a bit boomer' do things a little 'cringe'
However, these ideas could not be further from the truth. Although the new generation of digital natives can undoubtedly master any form of technology very quickly, it is not the tools that create great businesses but the vision of the founder!
Creativity is ageless, and the ability to innovate can be developed and honed at any time of life. Moreover, people who embark on a new career after the age of 40 have the advantage of bringing with them a rich life experience and maturity that can translate into a unique and valuable perspective.
Have you ever seen a CEO of any fashion company under 40 years old? A factory owner?
Fashion, especially in Italy, is still a 'mature' business if we talk about the age of those who make important choices and are in charge.
Moreover, in the world of fashion, life experience can be a huge advantage. Fashion is not only about creating clothing: it is an expression of the cultureof the historyof the emotions and the human experiences.
A person who starts his or her career in fashion after the age of 40 has lived, seen the world change, met different people and cultures. This background can be the source of inspiration for creating unique and meaningful pieces.
"Never give up on a dream just because of the time it will take to realise it. Time will pass anyway." - Earl Nightingale
The importance of pursuing one's dreams at any age
One of the most important lessons we can learn from the success stories of designers who started their careers after the age of 40 is the importance of pursuing one's dreams, regardless of age.
Often, when we reach a certain age, we tend to think that it is too late to change, that the opportunities to realise our dreams have faded away. But as the stories of Vera Wang, Laura Ashley, Brunello Cucinelli and many other entrepreneurs
it is never too late to start pursuing your passion.
Life is not a race against time, but a journey towards self-realisation.
And it doesn't matter at what age you decide to embark on this journey. What counts is passion, determination and the will to learn and constantly improve.
Whether you want to become a designer to bring your creative visions to life, to make a difference in the world, or simply for the pleasure of creating beauty, know that it is possible. And remember: it doesn't matter how old you are, but how much passion and determination put into what you do!

Some examples of famous designers after the age of 40
We are used to hearing success stories of young talents exploding into the fashion world at a very young age. But let's not forget those who started their journey in fashion design later in life. These examples prove that a passion for fashion can flourish and thrive at any age, and that it is never too late to follow your dream.
Vera WangKnown as one of the world's most famous wedding dress designers, Vera Wang was a figure skater and later a journalist. She did not begin her career as a designer until she was in her 40s. Her success is living proof that a second career in fashion is not only possible, but can also lead to extraordinary results.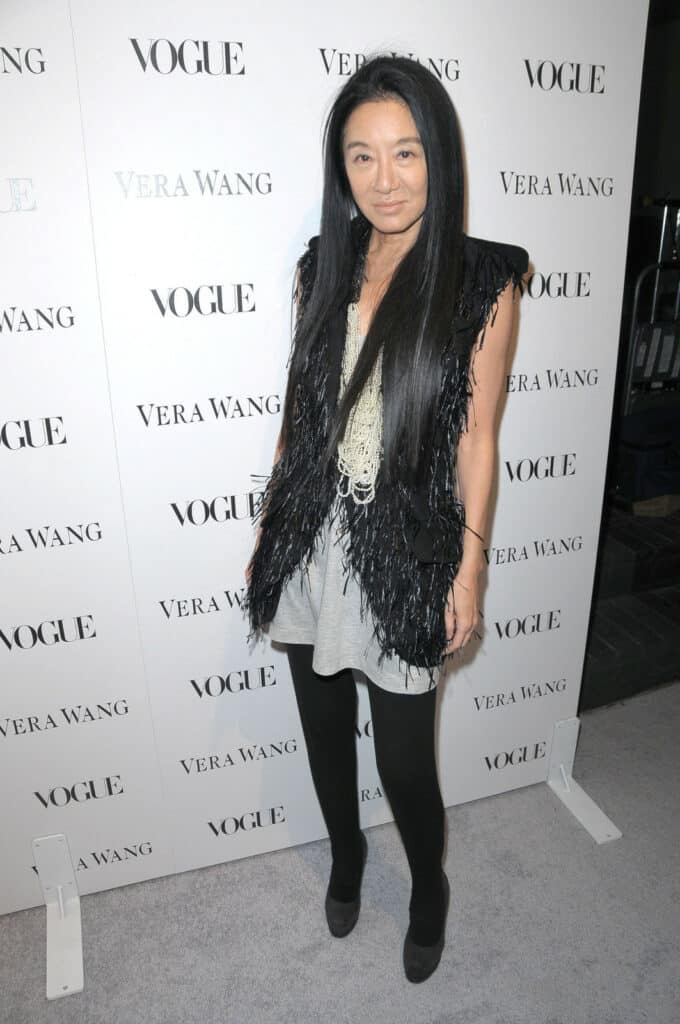 Laura Ashley: Before becoming an icon of floral and romantic design, Laura Ashley did not start her own fashion business until she was 39, so she practically entered the field at 40. Her brand became world famous and her name became synonymous with classic, feminine style.
Brunello CucinelliThe Italian designer founded his eponymous luxury brand in his late thirties and became famous for his high-quality cashmere. Cucinelli's success proves that it is possible to create a successful luxury brand even by starting late and in a rural region of Italy.
Vivienne Westwood: Despite opening her first shop in London at the age of 30, Vivienne Westwood did not present her first fashion collection until she was 41. Today, she is recognised as the godmother of punk and one of the most influential figures in the fashion world.
These are just a few examples of people who have achieved great success in the fashion industry after the age of 40. Their stories are inspiring and remind us that age is just a number when it comes to pursuing one's dreams. As these fashion icons have shown, it is never too late to make a breakthrough in life and start an exciting journey in the world of fashion design.
Break the mould, follow your passion!
Age is often seen as an obstacle in pursuing new goals and reinventing oneself in new roles. However, becoming a fashion designer at the age of 40 can be an opportunity to capitalise on one's experience and passion and experience a new, fulfilling career. So how can one approach the world of fashion at this age?
First of all, it is necessary to understand what it means to be a designer. The designer is a creative person, a visionary who translates his unique personality and vision into garments. He is an artist who interprets moods, creates sketches and, in his workshop or atelier, transforms ideas into tangible reality. However, this is only the tip of the iceberg.
The fundamental difference between a tailor - capable of sewing and creating beautiful clothes - and a designer does not only lie in technical ability or training. In fact, a fashion designer does not only create garments: he creates business models. At the heart of a designer's work is the creation of a brand, which encapsulates the personality and uniqueness of the creator.
The most influential fashion designers in history have also been great entrepreneurs, able to combine their artistic sensibilities with the ability to create a successful business.
These were not necessarily people born with entrepreneurial skills, but individuals driven by passion and intuitionwho over time have developed the awareness and skills necessary to lead a company.
At the age of 40, you may have a unique advantage in the fashion world. Over the years, you accumulate experience, knowledge and insights that can be instrumental in creating a unique and successful brand. Maturity can also bring a different perspective, allowing you to better understand the market and its mechanisms, compared to a budding young designer it is essential to understand that:
becoming a designer is not only about creating beautiful clothes. It involves building a brand, understanding the market and consumer behaviour, analysing costs and creating a solid business plan.
This requires a entrepreneurial mentality and a deep understanding of the fashion industry, which goes beyond the mere creation of clothes.
If at 40 you want to follow your passion and become a designer, don't let age stop you. Armed with your experiences, your passion for fashion and your unique vision, you can create a successful brand that speaks about you and stands out in the market.
Remember, the value of your ideas and creations will be recognised if you are able to communicate it effectively. As Coco Chanel said, she had been 'just a simple seamstress' throughout her career, but her brand remained one of the most prestigious in the fashion world decades after her death.
In conclusion, becoming a fashion designer at 40 is not an unattainable goal, but it requires commitment, passion and a good dose of strategy. With the right mindset and skills, you can turn your passion for fashion into a successful brand and live a fulfilling second career.
Steps for Becoming a Stylist After 40
Entrepreneurial Training: It is essential to acquire a robust entrepreneurial education to successfully navigate the fashion world. This does not necessarily mean getting an MBA, but you should have a solid understanding of the basics of business, marketing and brand management. Online courses, webinars and master classes can be very useful tools to enrich your knowledge in these areas.
Our Fashion Business Academywas created with the aim of providing agile and on-demand entrepreneurial training specifically for the fashion industry. If you are enjoying the article (which is free and informative) imagine all the materials you will find inside! And not only that!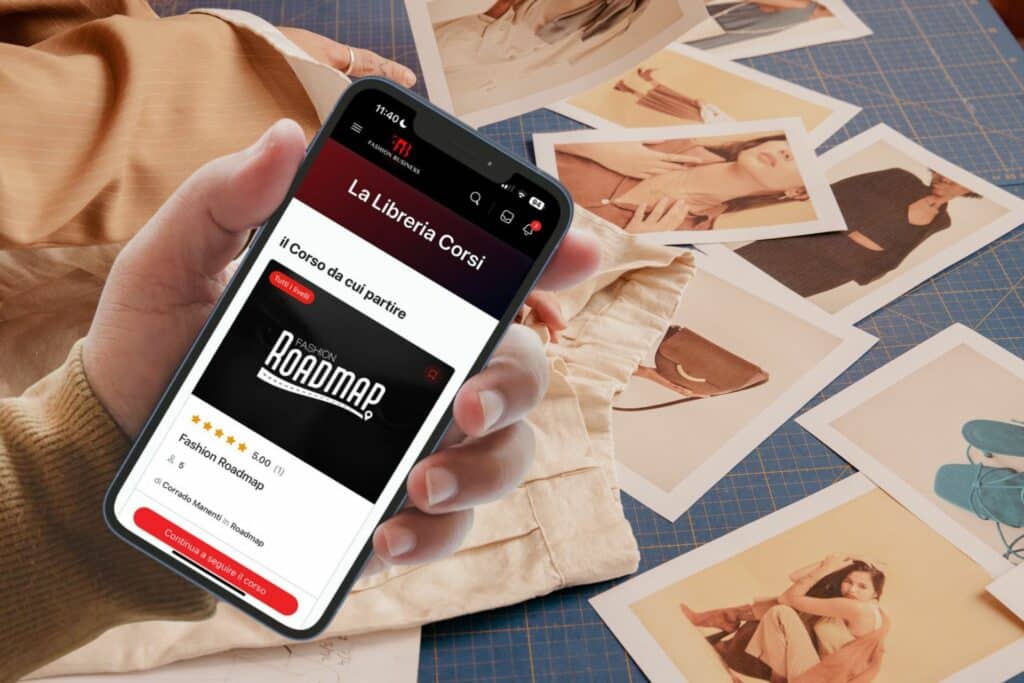 Development of an Artistic and Stylistic Sensibility
The heart of the designer's identity is mastering creativity. For this it is essential develop a strong artistic and stylistic sensitivityunderstand which trends are current and which might emerge in the future. Read fashion magazines, visit art exhibitions, watch films, travel and experiment: all this can enrich your artistic vision.
To be a successful designer, it is important not only to have a vision, but also to be able to convey it clearly.
Technical skills, such as the ability to draw fashion sketches, knowledge of materials and tailoring techniques, and the ability to effectively communicate your ideas to suppliers, are crucial. It may be useful to attend specific courses or workshops to acquire these specific skills.
One of the first things you need to master is undoubtedly the construction of moodboards, I have discussed this in detail in this article.
Keep in mind that you don't need to know everything, every single detail about patterns, fabrics fashion is a team effort, with a clear brand vision and a defined aesthetic taste, you only need to be supported by professionals (tailors, pattern makers, fabric producers, marketing experts, photographers, etc.) to turn your ideas into reality.
If you are reading this article you are already in the right place! We at Be A Designer we specialise in giving you exactly this kind of support whether you are already a fashion entrepreneur or starting from scratch.
Once you have acquired the necessary skills and defined your style, it is time to create your brand. This process involves defining your target audience, creating a logo and brand identity, and developing a marketing strategy.
Remember that your brand must be a reflection of your artistic vision and values. If you follow my approach you will see that the BRAND always comes FIRST construction of products. And it is also the element that acquires value over time (your products will retain value over time or even only acquire it if they become 'cult' 'collectibles' and this always depends on how strong and iconic your brand is). For this the Brand Design phase you see in the image below is very important and is the first thing we address with our customers.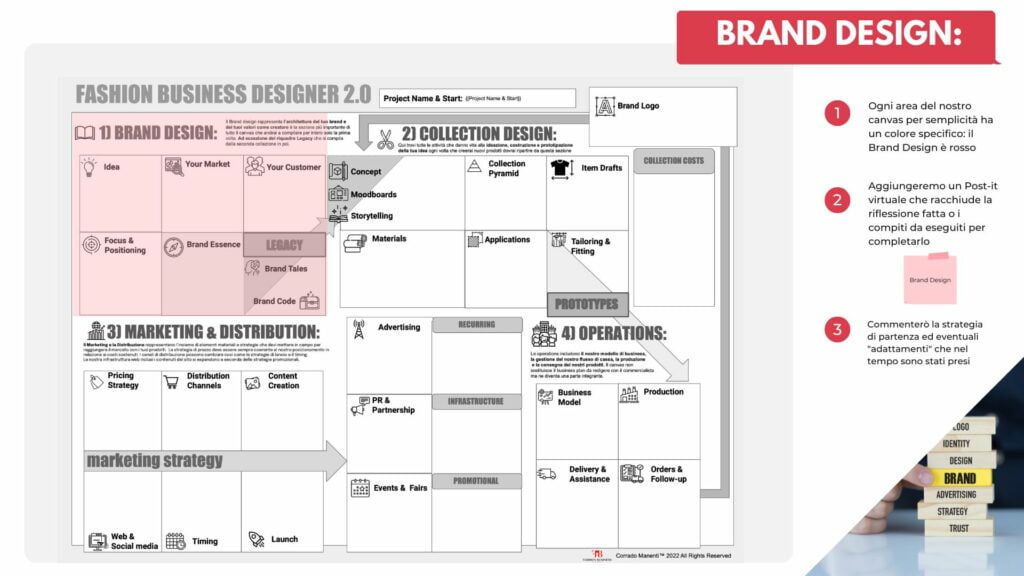 In conclusion, it is never too late to follow your dreams and become a successful fashion designer. Everyone has a unique creative potential and personal vision that can enrich the fashion world. Age is not an obstacle, but an advantage: maturity, life experience and wisdom can be your strongest allies in this journey.
If you have always dreamt of becoming a fashion designer, why not turn that dream into a concrete project? The road might be long and full of challenges, but with the right training, the right attitude and a strong passion, there is nothing you cannot achieve.
We are here to help you realise your dream. If you are ready to start your journey into the world of fashion, do not hesitate to contact us. We offer a wide range of courses, resources and opportunities to help you develop the skills you need and build your brand. Your journey to becoming a designer could start right here, right now.
Don't waste time, grab your dream and turn it into reality. Why not start today?
Contact us and find out how we can help you realise your dream of becoming a designer.